By Registering Your Own Domain You Should Never Need to Change Your Email Address Again
The Problems With Using Free Email or ISP EMail Addresses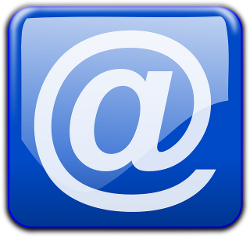 Using free services like Hotmail, Google or Yahoo to create extra email addresses, or to register several email addresses with your ISP (Internet Service Provider) is fine, but should anything happen to cause your account to be suspended or canceled, or should you change your ISP, you then have to notify your Family, Friends and other Contacts of your new email address, as well as re-register new addresses with all the web sites that you subscribe to.
This is extremely frustrating, and inevitably you will end up losing track of addresses or registered sites, especially if you can no longer access your old emails.
Boost Your Online Identity By Getting Your Own Domain
By registering your own custom email address domains, your email instantly stands out as yours and is easier to remember. For example, if you registered brownfamily.com you could create emails like [email protected], [email protected] and the whole family can have an identity.
Registering your own Domain also allows you to create your own web site, which in the case of our example would be www.brownfamily.com. This is a nice thing to have for your family, where you can post photographs, blog about your vacations, events etc, your family history – the scope is endless. But for the scope of this article, I would like to try to demonstrate the benefits with regard to email safety.
You are now in complete control of your own email addresses, so either by changing ISP, or doing anything else, other than acts which cause your domain to be banned, your email address should now last forever.
How Do I Register My Own Domain?
What Is The Cost To Register A Domain?
You can register a domain with any valid Registrar, such as Namecheap.com and it costs about US$10 a year, which is very minimal. You also need to have your email hosted, and Namecheap offers this for about US $9.88/yr, although you can get cheaper.
What Are The Real Benefits Of Having My Own Domain?
I can see the hands going up now and the questions forming, as you ask why you should pay for having your own domain just to get a pretty email address and web site. You can get free email and free web pages in any case. There must be something that makes this all worthwhile, and not just another drain on your finances.
Valid points, thanks for asking, and I am about to come to this point.
The huge benefit to having your own domain, and I mean HUGE, is that your email addresses never need change again. There is now no need at all to use your ISP provided emails, except to maybe receive emails from your ISP. You can give your address [email protected] to your family and close friends, and your wife can give hers [email protected] to her friends too. Don't forget the kids [email protected] and [email protected] and even Grandma can now have a fancy email address [email protected]. Should you change your ISP, for example going from Comcast to AT&T, because your email address is not one of theirs, it never need change.
What Is Email Forwarding ?
Imagine that you want to be able to categorize your email messages based on the address that they are sent to.
This is rather like Magazines, Government Departments, Mail In Rebates etc having a P.O.Box Number as part of the address. Even though the mail is received at the same address, it can be sorted by P.O. Box Number and sent to the right department for processing.
The same is true of emails if you create forwarding addresses.
Let's say that you decide to create a email address for your banking, and set this up as [email protected].
This is great, but it still might be possible for emails to be sent to that address that are not genuine. By creating forwarding email addresses you can greatly decrease the likely hood of this happening.
When you create a Forwarding Address, it's not a real address that you have to log into. It just points to a real email address.
For example, you might bank with Chase Bank. You can create a forwarding address [email protected] that points to [email protected] and then use [email protected] to register with Chase Bank to do all your online banking. When you receive mail from them, they will send it to [email protected], but it will be forwarded and received into your Inbox for [email protected]. If you look at the "To" address for the email, even though it's in your [email protected] account, it shows that the message was actually sent to [email protected]
Does that make sense?
If we expand this to say Shopping, you can create a email address called [email protected], and have forwarding addresses for everywhere that you shop online, for example [email protected], [email protected], [email protected], [email protected] etc.
Now if you receive an email from Chase Bank that looks genuine, and it was sent to any address other than [email protected], you know that it isn't genuine. Ditto any messages from Amazon, eBay etc should have been sent to the correct address. This can greatly cut down the chance that you fall for fraudulent emails.
In addition, if you register with a web site that you are not 100% sure about, you can allocate a forwarding email address for that purpose. Should the email address start to receive lots of junk mail, viruses etc, you can just delete the forwarding address and the mail will stop. Because no messages are actually sent to your physical email address, you don't have to change anything else.
Why So Many Forwarding Addresses?
Many email readers allow you to create rules to highlight certain messages, or to move them automatically to certain folders. You can also define rules that will send out an Auto-Responder message when an email is received. One of the simplest ways to control all of this is to use forwarding addresses.
If you think this out, you can really make your email processing as well as your security a lot better, and when you are receiving 100 or more messages a day from a given source, having separate email addresses and a good mail reader really make it easier to process. This can also save you a lot of time.
By improving the way that people use email, we can hopefully help to cut down on online fraud, and also save people time and effort.